Human Phenotyping Core (HPC)
The ADI Human Phenotyping Core provides the technical expertise and access to cutting edge equipment for the clinical and biomolecular phenotyping of human samples. This Core is considered a full-service core covering everything from the consultation on planning of experimental designs, selection of samples, selection of technologies to be used, execution of experimental plans, processing of data and providing results/reports for deeper analytical methodologies. In general, the HPC covers the analysis of human biofluid biomarkers, genetic variant analysis, gene expression analysis, single-cell proteomic/single cell high-content immune phenotyping and single-cell transcriptomics/epigenetics. As with the other ADI Cores, the HPC is tightly integrated with both the Biorepository, Clinical and Translational Informatics Cores.  This tight integration enables the HPC to assist investigators in the planning of experimental plans, including consultation on the best samples, from the right collections to address their questions.  This integration also allows for the seamless integration of the relevant clinical data and experimental data for analyses.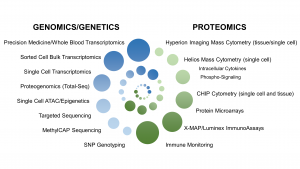 Areas of expertise covered by the HPC include:
Biomarker Proteomics: includes solid phase ELISA, xMAP-based multiplex assays, high-content protein slide arrays, peptide-based assays, Proximity Ligation-based assays
High-Content Immune Phenotyping: includes flow-cytometry, phosphoflow cytometry, CyTOF, PhosphoCyTOF, ChipCytometry on both isolated cells and tissues
Genomics (Transcriptomics/Molecular Phenotyping) – includes whole blood and sorted cell total RNA-Seq and 3' transcript counting methods, focused RT-qPCR (Fluidigm BiomarkHD) high throughput gene expression analysis.
Single Cell Transcriptomics/Epigenetics – includes Drop-Seq, 10X 3' and 5' scRNA-Seq, 10X scATAC-Seq, 10X scNuc- Seq
Genetics– Genetic Variant Typing; medium throughput SNP variant panel using Taqman on Fluidigm BiomarkHD, or Illumina Human Genotyping Chip platforms.
Services are generally custom designed and costs are figured based on time and services provided and material costs.
Estimates provided upon request.   To initiate a request for project consultation and cost estimates, fill in the HPC Project Development Form below:
Phenotyping Core Project Development Request